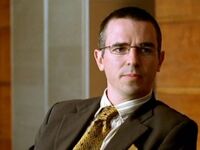 Howard Jennings (played by Charlie Creed Miles) is a ruthless, young property broker in London. He appears in Series 2's episode "Gold Mine".
Considering London to be 'his city', he has taken radical steps to acquire valuable property, including running over the cat of an elderly tenant so that she would sign off on her flat.
Though intelligent, he has a very bad temper when cheated- such as when another company beat him to a bid for an area of land that was revealed to have valuable Roman coins underneath it-, with Danny being particularly tempted at the prospect of conning him because he has been conned before and considers himself too smart for grifters, despite Mickey warning Danny of the risks in conning someone who was potentially prepared to be conned, especially after he had just caught out another grifter who had attempted to scam him.
Having made contact with Jennings himself- reasoning that using Albert as the 'roper' as usual would be sticking to the rules when they needed to defy Jennings' expectations-, Danny posed as a representative of a new property development company from Manchester looking to expand into London, expressing dissatisfaction with his own company. Although Jennings paid a visit to the company's alleged office and took a look at an old map in a file that appeared to indicate the presence of an old gold mine in London- even consulting a geology professor about the possibility that a gold mine could exist-, he continued to tape his conversations with Danny, just as he had with the last grifter who dealt with him.
When they met up to make the deal for the land on the site in question, Jennings arranged for all of the relevant people he'd met during his research- including Albert's geology professor, Stacie's research assistant, and Ash as the land-owner- to be present during Albert's test, subsequently bringing in his own team of experts to analyse the land. Fortunately, Mickey had already anticipated that independent tests would be carried out, arranging for Ash- who was carrying a gun as part of his role- to fire a shot with a gold-filled cartridge into the area where the test was to be carried out, allowing the team to pass the land off as the genuine gold mine without Jennings being any the wiser.